Exclusive sellers of Chanson Bleu Chartreux/ no where else on Earth!
The term 'blue cat' is a term used in the cat show world to describe a gray cat. The cat breeds which are traditionally described as 'blue' are the Chartreux, the Koret, and the Russian Blue. The Blue Cat Farm and Spa is named after these cats. The Chartreux is an infinitely civilized breed and yet there is a part of their heart which remains forever wild. They are a strange and wonderful combination of the mundane and the sublime.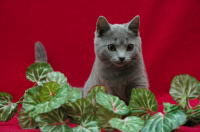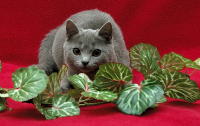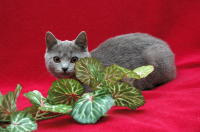 "He was really just my 'old gray cat'....but no, he was also French...and that has made all the difference!" I have always enjoyed working breeds. Animals in this category reflect great intelligence, the ability to survive in diverse circumstances, independence, and verve. This temperament makes interesting, entertaining companions . Chanson Bleu Chartreux have a certain unshakable 'joie de vivre' combined with a sweet temperament which makes us very proud. The Chartreux are a late maturing breed and take two or more years to mature. "Highly adaptable, intelligent, peaceful" - good traits in a cat
For more information contact Judy Belden chansonbleu@comcast.net
Chanson Bleu females are very refined: understated elegance and sophistication. Our females will look something like this kitten of five months/5 pounds ... a typical age for adoption.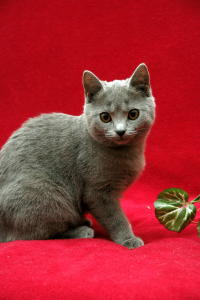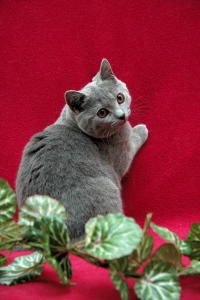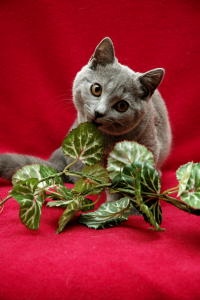 Judy: 603 763-5600 or chansonbleu@comcast.net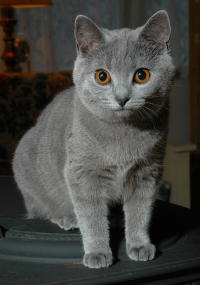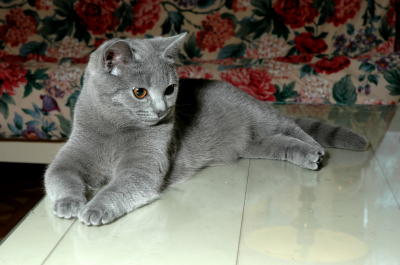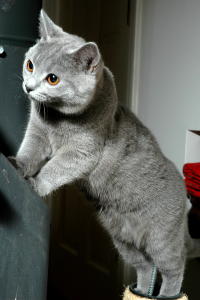 CFA CAT SHOW/Boxborough, MA: 3rd and 5th and 9th BEST KITTENS!!!!
CFA Judges Pearson, Hutzler, and Watson work their magic with the kittens... some girls kiss and dance!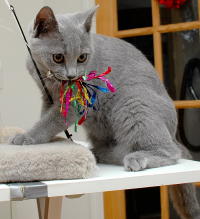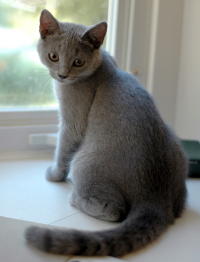 The showgirls/next generation Chanson Bleu
The Vision: Chanson Bleu Chartreux
Chanson Bleu Chartreux was established in 2003 to preserve the American Chartreux in all its visual diversity. The kittens we produce have imported lines blended with the American lines to increase the vitality of the offspring. The result are kittens of exceptional vigor and beauty. Judy brings her training as a kindergarten teacher to the cattery to provide support for the developmental needs of the kittens. Husband Steve brings his 20 year love affair with the camera to Chanson Bleu Chartreux to document the life and times of the Chartreux as perhaps no one else in the Chartreux world does. For more information contact: Judy Belden (603) 763-5600. or chansonbleu@comcast.net
Sandburg wrote: "the fog comes on little cat feet"... was he thinking of a Chartreux, perhaps? Notice their feet/legs support large bodies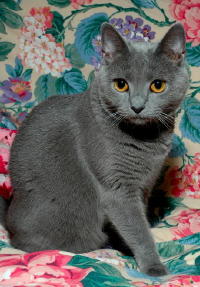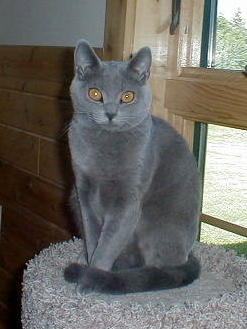 Also note the iridescent silver glow to their coats Collete compared to a pigeon's breast.
The Chartreux is one of only eight natural cat breeds on Earth. The breed has survived near extinction twice. At one time it was hunted for its fur. The years between WWI and WWII were difficult years for the breed. Thanks to the conservation efforts of various individuals in France and the US the breed is still available today for you to enjoy.
The coat breaks indicate a luxurious, plush coat. The eye color is the much coveted copper. Chanson Bleu cats have fine boned legs and delightfully small feet. Both sexes have a 'high' ear set which completes the look of the finest Chartreux.
A very old, natural breed favored in the Middle Ages for its hunting abilities, the Chartreux can still look very much like its ancestors. Legend has it that they were brought back by the crusaders as gifts to the monks who made their armor. Even today, some lines maintain an aristocratic Old World look. While we do not actively breed this look, we use these older lines to support our more charming American lines.
Below are two examples of our European Chartreux.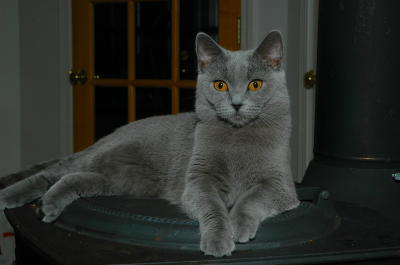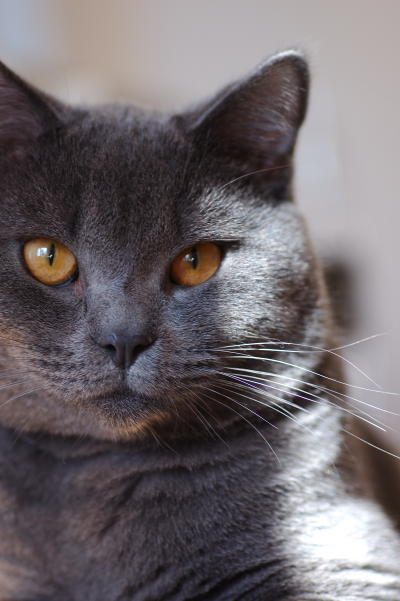 Our kittens may nurse until they are eight to twelve week old. We let the mothers decide when their babies should go on solid food. Kittens are late bloomers with their big bodies and tiny legs.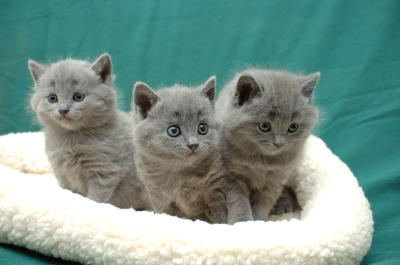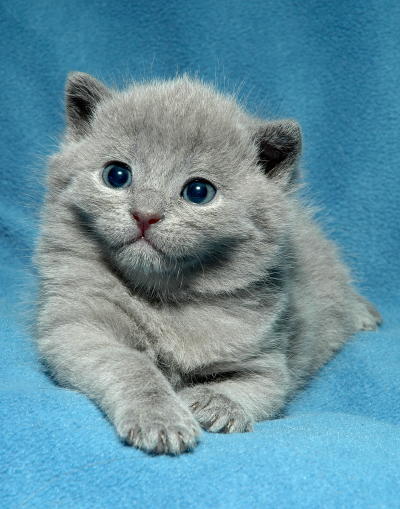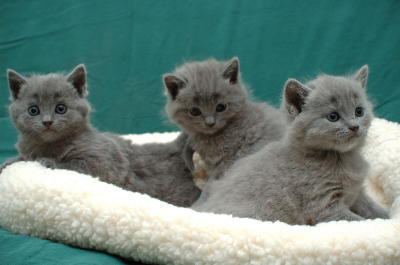 Kittens with character. On their way. The journey begins!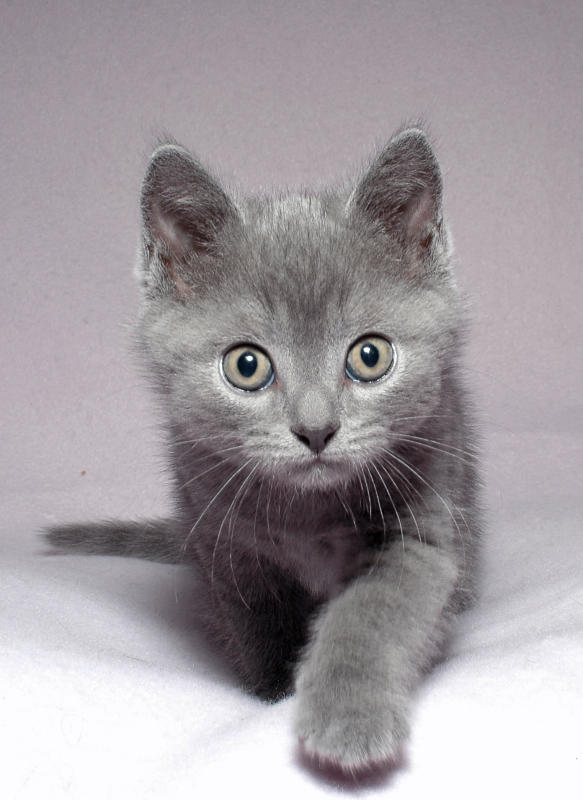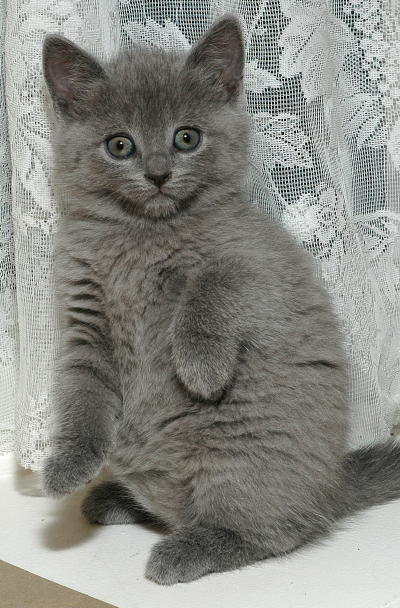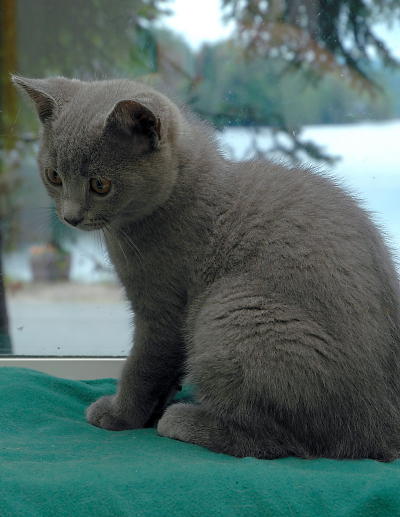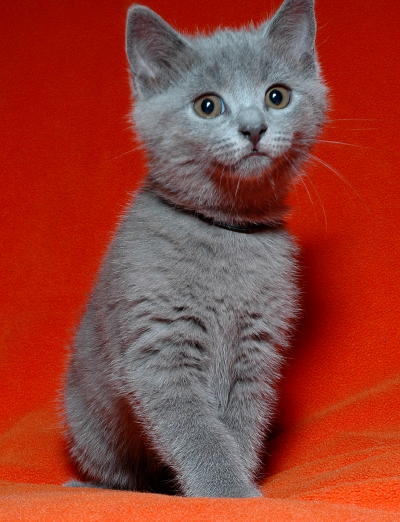 Chanson Bleu Chartreux fun pictures
Since Chartreux kittens are kittens for 24 + months, consider buying two or be prepared for a lengthy personal commitment to play with them!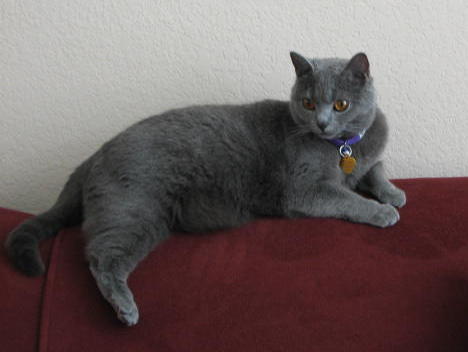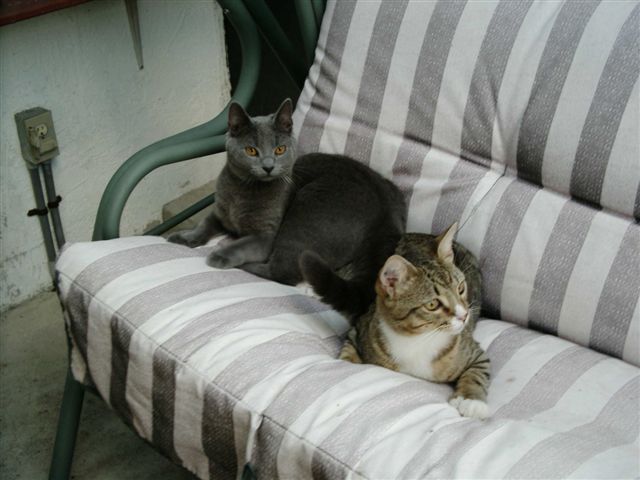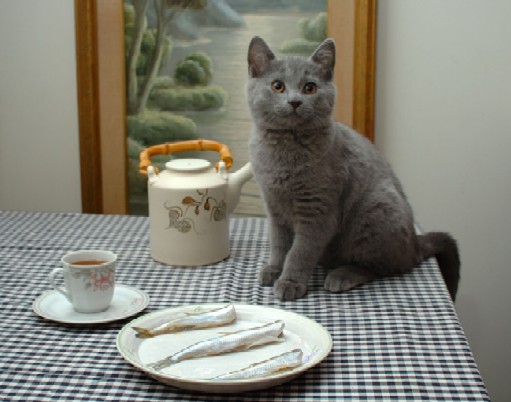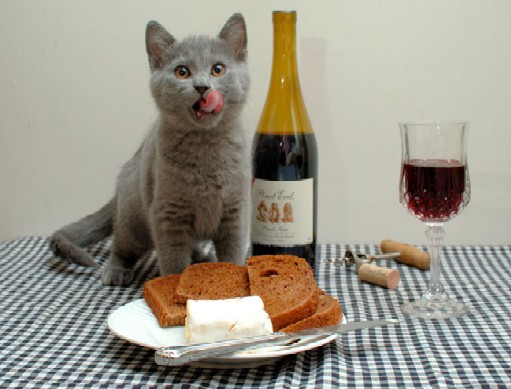 Bon appetit!
Bags packed and ready to go!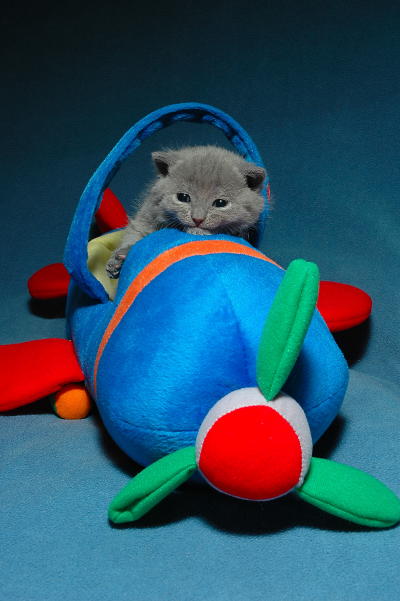 Under special circumstances we will ship.
Contact Judy at chansonbleu@comcast.net
Please use the phone if E mail doesn't work.
I answer mail within 4 days.